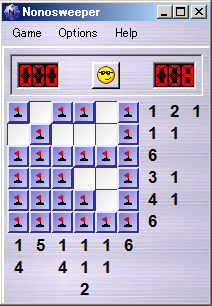 Nonograms (also known as CryptoPics or Griddlers) are logic puzzles in which the aim is to reveal a hidden pattern by looking at the number clues.

The numbers list the groups of adjacent mines for each row and column, as you can see in the picture.
Your job is to find all the mines using these clues, but take care - one false step and the mines will explode!

Nonosweeper is freeware - which means, just in case there's any misunderstanding, that it's completely free!